Now hiring!
Are you interested in working for Europros? View our employment opportunities.
About the Owner
Hi, I'm the lead technician - Chad , and this is my wife and our two children. I have been passionate about German automobiles since I was very young, which was inevitable since my Dad, owned and operated a VW/Audi repair shop for 33 years.

I attended automotive school where I received my certification, and have gained vast field experience in Wichita - which greatly fueled my desire to do independent service work. I aspire to be an affordable and reliable alternative to local dealerhips, and I believe that the way to do that is to provide fair, friendly, honest and knowledgable customer service to all of my clients.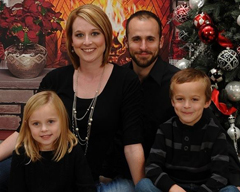 Happy with your service? The best "thanks" is a recommendation.

Ask us for one of our business cards, or take the time to write a review for our Google business page , or Facebook page .

We take great pride in being one of the only Volkswagen and Audi specialty shops in Wichita.